Why A Small Business Needs A CPA
An accountant is a financial professional who takes care of all the detailed and essential numerical tasks that are involved with running a business. An accountant should know how to record business transactions and prepare financial documents such as tax returns and monthly financial statements for a business. A Certified Public Accountant (CPA) is an accountant who performs these duties and also must meet the education and experience requirements of the state in which he or she is licensed. A CPA must pass the state's two-day CPA examination, earn annual continuing education hours including ethics, and be regulated by the state Board of Accountancy.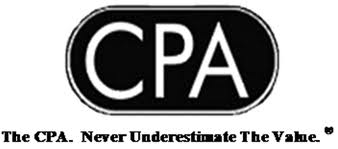 In other words, there is a big difference between an accountant and a CPA. All CPAs are accountants, but not all accountants are CPAs. While a CPA can't make business decisions for you, a CPA can offer helpful advice and recommendations when providing these services:
Business startup: To recommend the form of business organization for your business and the steps needed to form an organization in your state.
Payroll compliance: To make sure that your employees are paid and all the required payroll reports are filed on time.
Accounting: To review and analyze the financial statements prepared by you, train your staff to use QuickBooks, or else prepare the financial statements for your business on a monthly or quarterly basis.
Tax compliance and planning: To help your business e-file all required tax returns, save on taxes now, and plan for the future.
Business advising: To help you to analyze your business, make recommendations for cash flow, strategic planning, budgeting, and internal control, serve as a sounding board for your business ideas, and help you to make informed decisions for long-term success.
A CPA can help your business with much more than recording numbers or filing tax returns. Hiring an ethical CPA that you can trust is an important business decision. We are a local CPA firm that has over 25+ years of experience in providing quality services to small businesses.
To learn more about our CPA services for small businesses, contact our office today at (727) 391-7373.