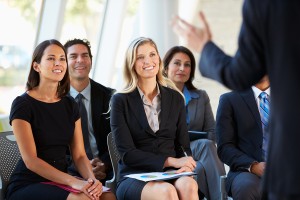 As an educator, Linda presents current topics of interest on entrepreneurship and small business management at local networking, not-for-profit, and association events. Each topic is flexible in both the content and length to fit the needs of the audience.
Recent presentations have included:
Steps To Starting Your Own Business 
Recordkeeping For Your Business
The Unique Advantages Of A Woman-Owned Business
Understanding The Numbers On Your Financial Statements 
Understanding Cash Flow For Your Business 
Year-End Tax Planning Tips 
How To Write A Business Plan For Your Business
Hiring Employees vs. Independent Contractors
Exit Planning For Your Business 
---
"Thank you for speaking to our networking group and sharing "Year-End Tax Planning Tips."  Everyone was thrilled with all the great information you shared. You took a difficult and dry topic and made it simple and understandable. Thanks again for imparting your wisdom!" – K.P., Organizer – Unity Networking Group
"Your presentation on "Steps To Starting Your Own Business" offered fabulous practical advice for anyone thinking about striking out on their own! Thanks very much for sharing with us!" – J.M., President, ABWA, Sunshine City Charter Chapter
For more information about hosting a small business presentation for your group or organization, please call our office today at (727) 391-7373.